Magic & Illusion Shows Portal
Having been performing magic and illusion shows worldwide professionally for the past 16 years in virtually every kind of situation, for people of all ages, from all walks of life, Aedryan has transformed into an extremely versatile and experienced magician and illusionist. There are many different magic and illusion show plans and packages available for you to select from! Below you will find a brief description of each of the magic and illusion show plans that Aedryan has available. To help you decide which type of magic or illusion show will be perfect for your event and to learn more about each of the performances, be sure to click on the link above each of the descriptions. With the exception of Aedryan's "ADULT Comedy Magic Show" and "Forbidden Magick", please be assured that each of his performances are clean and suitable for all ages.
Be sure to also visit Aedryans Promo Portal to view promotional material!
Click on each of the
show packages

below to view detailed show information.
Illusion Shows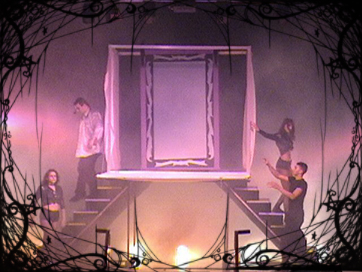 The highly "commercial" Strange Happenings mega illusion show production combines over 16 years of Aedryan's life's work, experience and theatrical expertise to create a 90 - minute experience of a lifetime for the audience. Along with three dancers, Aedryan will present cutting edge mega illusions and other large-scale grand illusions. In addition to the illusions and mega illusions, the audience will become part of a wide array of highly interactive miracles and outrageous comedy pieces.
What real magic looks and feels like! This one of a kind theatrical masterpiece is truly one of the most spooky and weird, yet artistically beautiful and deep bizarre magic acts you will ever see. Brought to life from the darkest corners of Aedryan's creative mind, this ghostly themed bizarre magic act touches the audience on many deep visual, emotional and psychological levels and contains lots of dark humor.
This commercial illusion show features large scale grand illusions and lots of audience participation magic. If you are seeking a fast paced, high energy, magical evening of entertainment of larger proportions that is appropriate for all ages, but do not have the staging capabilities or space to accommodate Aedryan's "Strange Happenings" production then this is the perfect entertainment package for your event.
Cabaret/Parlor Magic Shows
For this upscale "commercial" cabaret/parlor magic show, Aedryan and his assistant will present illusionettes, lots of audience participation, comedy magic and mentalism. In addition, Aedryan will also create an ambient, theatrical atmosphere with stage lighting and fog to help set the mood. This magic show package is large enough to fill any theatre stage, but can be setup and performed in virtually any ball room or banquet hall.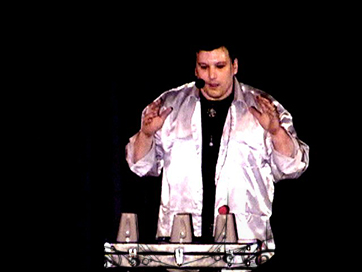 This hassle free one man standup cabaret magic show makes for a highly interactive, entertaining evening of intimate magical entertainment that is very efficient for clients with limited budgets or performance space. This extremely versatile magic show can be custom tailored to be performed in a private residence or yet the largest of civic arenas.
If you are expecting a wild and crazy group of "not so conservative", immature adults, who will not be easily offended by an ADULT comedy magic show filled with strong sexual humor and innuendo then Aedryan's "Magic & Delusion" ADULT comedy magic show might be just what you need! This ADULT comedy magic show is best suited for comedy clubs, where risque' adult humor is much more widely accepted and is NOT recommended for corporate events.
For close-up/strolling magic shows, Aedryan will stroll throughout your venue/event going from table to table/group to group/person to person, performing intimate close-up sleight of hand magic and highly interactive magic, which in many cases, happens right in the audience's hands. There is not a performance setting in existence where close-up magic cannot be performed!
If it's "Wow Factor" you want at your next trade show, there are MANY options available to you. Any one of Aedryan's magic or illusion shows can run several times throughout the day. Do you need a special magic effect or an entire act custom designed to deliver your company/product message? Not a problem! No matter what your needs are, Aedryan will help ensure that your next tradeshow is a total success!
Children's Magic Shows & Programs
Aedryan's children's magic shows will help make any children's event just as fun and laughter filled for the adults as it will be for the children. Aedryan has many different options for his children's magic shows, which depends on the age group and performance setting. Whether it's a children's birthday party in your home, a school show, daycare or a festival, Aedryan's children's magic shows are a sure way to create memories for the little people in your life that will last a lifetime.
Aedryan's magic workshop is available for ages 6 – adult. The magic workshop is available as either a one time program or a complete 4 – 6 week course that has many additional features, activities, lectures and magic learning tools. This program is perfect for after school programs, libraries, children's museums, pre-schools, youth programs and much more!
Project M.A.G.I.C. (Motivation And Guidance Imagination & Creativity) is a very special children's educational program, which combines magic with puppetry, sound effects and storytelling. Aedryan will captivate the children's imaginations while instilling many important messages within them that they will never forget. Perfect for pre-schools, libraries and youth programs.